Home
» [Movie Review]: Kevin Smith's "Red State"
[Movie Review]: Kevin Smith's "Red State"
Category: Movies|Reviews Posted by: Alex on September 22nd, 2011
From the start of Kevin Smith's career, he's shown an endless amount of talent and ambition. Even his big studio pictures carry an endearing respect to the art of independent cinema. He is constantly challenging himself by creating characters, stories, settings and themes that most young adults can seemingly relate to. With Clerks, his knack for creating crafty dialogue about relationships, hockey and even Star Wars, turned heads every which way. Being confined to a convenient store wasn't a detriment to the story going in directions that made the film feel larger than life, at the time.
He continues his career by drifting further outside his comfort zone, little by little, tackling themes of homosexuality, religion, and abortion but fusing them with his flair for snappy dialogue and likeable characters. No doubt, he has become a director that many actors have wanted to work with. Within six years of his feature debut, Smith has worked with Alan Rickman, George Carlin, Linda Fiorentino, Matt Damon, Michael Rooker, and many other fantastic actors. Quite a feat for a fellow starting a career many have snubbed as, "simple dick/fart jokes humor."
Kevin Smith's career isn't all sunshine and rainbows, though. I always say that everyone has a blemish on their record, which Smith clearly has. Jersey Girl and Jay & Silent Bob Strike Back were films that made me think he was rehashing successful ideas that had run their previous course. I was nervous to think that a filmmaker with such potential was simply getting complacent. Zach & Miri Make a Porno was a strong comeback from his previous efforts, but Smith has said he's wanted to do more. So when was he going to challenge himself again like he did with Chasing Amy? or Dogma? Red State is that departure and challenge that we've all been waiting for.
Red State is an ambitious feat, as it is a departure from Smith's regular body of work. The film begins with three teens answering an anonymous online sex ad. Travis, Jared and Billy Ray venture out to the countryside, only to be met by religious fundamentalists. The group, led by Pastor Abin Cooper (Michael Parks), intends to make an example of these kids in front of the rest of their congregation. Disastrous results lie ahead as Smith meticulously creates moments in Red State full of absolute horror, tension and excitement quite effectively. It's hard to describe this film without including spoilers, especially when Red State is a major re-invention for Smith and his career.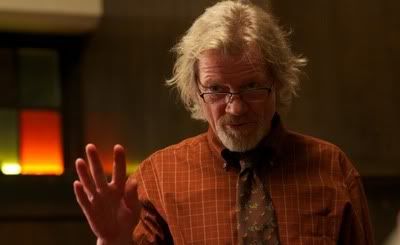 One of the most exciting aspects of Red State, is Smith's screenplay. The dialogue is genuinely well written and intricate. Smith's casting choices only elevate the screenplay even more. Beginning with Michael Parks as Abin Cooper. Parks is well known as a regular in many Tarantino and Rodriguez's films, so it's understandable that he's included in this project. His hate filled sermon will send chills up your spine, as will his performance. I truly feel that this is a role that couldn't have been filled by anyone else.
John Goodman also gives a standout performance as ATF Special Agent Keenan. Melissa Leo, Kevin Pollack and Breaking Bad's Anna Gunn are all memorable cast members as well. Bringing Smith's new vision to life, is cinematographer Dave Klein. Klein has a history of shooting almost all of Smith's films, and re-invents his style as much as Smith does. Using the new RED digital camera (Made famous by Soderbergh's experimental bio pic "Che."), Klein brings a documentary feel with a fly on the wall approach to all events happening before you.
Red State isn't a perfect film by any means, although, it's an entertaining breath of fresh air from a director whom many believed was beginning to do formulaic films. While it's typical of him to address social issues in a mocking undertone, it is replaced with respectful moralistic views on religion gone too far. The influences in the film range from the Westboro Baptist Church, Waco TX siege of 1993 and the many dangers caused by "blind faith". At the end of the day, the performances are what stand out the most. I'm happy to see Smith pushing himself further than he's ever gone before. There are rumors of him intending on retiring after his next project, a hockey drama-comedy based on the song "Hit Somebody (The Hockey Song)" by Warren Zevon. Hopefully, these rumors are false. With Red State, I feel Smith is embarking on a completely new path that can make his career interesting and fresh all over again.