Home
» [Movie Review]: Lucky McKee's "The Woman"… A Retaliation on Misogyny
[Movie Review]: Lucky McKee's "The Woman"… A Retaliation on Misogyny
Category: Movies Posted by: Alex on September 21st, 2011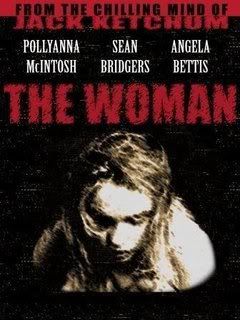 I'm no stranger to controversial films. I tend to go out of my way to find these, actually, as I'm always on the tip of constantly wanting to be challenged. Ideally, I believe that's what films should be about. As much as they entertain, it's even better to find a film that incites emotions, outrage, controversy, discussion, etc…
That said, let me tell you how I stumbled upon this film. I was surfing the internet to find updates on the Sundance Film Festival's 2011 line up, and I found that one film had caused an uproar. In fact, Lucky McKee's The Woman made a theater patron so upset, that he began throwing things at the audience members who were actually enjoying the film. Flinging things, he called them sick, perverted, and said that the film was, "Trash! Not Art!" Eventually, he was escorted out.
Of course, after reading that, I immediately went out of my way to find a screening of this gem.
For those not familiar with McKee's previous work, he's no stranger to the horror and visceral film genres. In 2002, McKee released May, a film about a young girl with murderous tendencies to keep people she wants close to her. Gathering favorable reviews; including a 4/4 star review from Roger Ebert, McKee was immediately poised for horror stardom. McKee's follow-up came in 2006 with Sick Girl. A contribution to the wildly popular Masters of Horror series. Until the release of The Woman, McKee's best work came in 2007 with Red (Not to be confused with the Bruce Willis comic adaptation.). In the film, Brian Cox loses his dog (Red) to troublesome teens in the neighborhood. He seeks retribution by any means necessary, legally and illegally.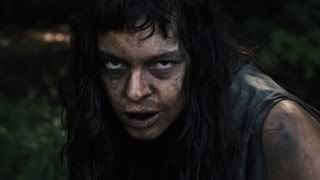 The Woman, which is based off a collaborative novel McKee penned with Jack Ketchum, is McKee's latest offering. The story follows the Cleek family, mainly the father Chris Cleek. Chris, is out hunting one day and discovers a savage woman living in the woods. He decides to capture her and take her back to his home. He reveals to his family his intentions of "civilizing" this woman and enlists their help to do so. Sounds pleasant, right?
Well, right up to the part where the woman bites Chris' finger off and eats it…then you know this odyssey has no intention of ending well. Each interaction continues to build to levels of major discomfort. Ranging from simple communication to extreme torture, The Woman builds with a crafted pace that feels similar to David Lynch's Blue Velvet. McKee seems more comfortable this time around and The Woman comes off like a film he truly wanted to make. McKee seamlessly balances Chris' twisted ideals with layered levels of uncomfortable emotion and offbeat humor.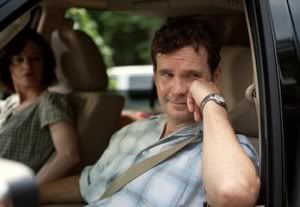 The Woman is McKee's most solid work on all fronts. The casting was quite good for a group of unknowns. He's worked with a few of his cast members in the past. Angela Bettis, who delivers a solid performance in The Woman, worked with McKee as the title character in May. Sean Bridgers stands out with a great performance of maniacal intensity. His ups and downs of humor and fear come so relaxed, you'd think he's a seasoned veteran in the horror genre. Bridgers is remembered for his character Johnny Burns in the criminally underrated Deadwood. The Woman, played by scottish actress Pollyanna McIntosh, is effective in raising neck hairs during tense scenes.
I really don't have anything negative to say about this film. The controversy drew me in, but the merit of the film eventually left me feeling satisfied. It's underlining story of male dominance and misogyny is interesting for a horror film. Not since I Spit on Your Grave, have we seen a woman truly take charge on film. The torture and violence might be excessive for some viewers, but the horror genre is continuously to try and find ways to push the envelope. Kind of like riding the worst roller-coaster, this will be fun as it is uncomfortable for most avid horror fans. The torture and violence might come off excessive, but it's necessary to tell a story that's rotten to the core. And I mean that in a good way.